A note from Tristann Rieck, owner of Brass Bell:
After several years of teaching and directing various bands, my father Alan Gaulke, developed hearing problems, making it painful to continue working with boisterous musicians. He decided to change direction, if only slightly, and open a music store. The first Brass Bell location opened its doors in 1971 and was located in Hales Corners, with a staff of only two employees and two lesson studios.
Brass Bell began forging partnerships with many local school Band and Orchestra programs, and our unique Rent-to-Own Program was born. We are proud to say that our rental plan has been so successful that it has hardly changed in over 48 years of business!
Our location here in the North Shore boasts 16 state of the art lesson studios, a repair shop, and a staff full of friendly and knowledgeable musicians to help you with all of your musical needs! Our core values at Brass Bell are the same as they've always been: to provide exceptional service and reasonable prices to musicians (whether they're a beginner or a seasoned professional), to support music in our local schools, and to nurture our customers' love of music in whatever way serves them best. We look forward to serving you and the future generation of musicians in the Milwaukee area!
Regards,
Tristann Rieck,
Owner

Brass Bell Music
210 Silver Spring Dr.
Milwaukee, WI 53217
414-963-1000
"The History of Brass Bell"
Tristann Rieck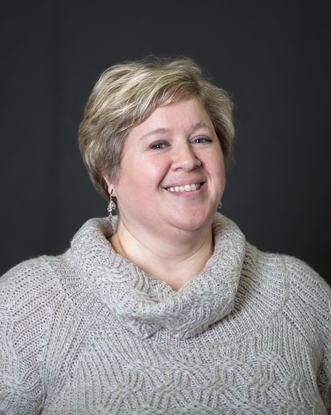 I started my career for my dad's music Store Brass Bell at the tender age of three, when I starred in a Brass Bell TV ad for Brass Bell. At fourteen, my Dad gave me my first real job (I am not sure cleaning the bathrooms when I was 7 years old really counts). I came to the store eagerly, and Dad took me to a door in the back of the store. He said "Your job will be to file this'" and grandly opened the door on a closet awash in piles of unorganized invoices. I actually enjoyed that job quite a bit. My natural shyness and love of organizing things led to me working as the administrative backbone of the company. After a little too much calculus while pursuing a degree to teach math and on the recommendation of our accountant, I pursued a degree in business administration with an emphasis on finance.
My instrument of choice, the french horn, did not come naturally to me. In fact I know I was quite bad, but I just couldn't tell my dad that I wanted to quit. My passion for playing horn and working hard to get better was sparked when the cute trumpet player behind me commented to his buddy after I filled in for our missing principal horn player that it was the best he had ever heard that solo. So thank you Bryan for being sick that day.
Continued...
Asked by an interviewee about what I love about playing my french horn, my answer was that I have a beautiful image in my head of what I would like my music to sound like and on the rare occasion that I actually play like that, I feel so perfectly connected that there truly are no words to really describe the feeling (all musicians know them as the "shiver moments"). That is what I continue to play for, those precious glimpses.
During college I had the opportunity to study with Barry Benjamin on the horn and play with the Symphonic Band for the duration. After graduating and putting my horn down for a year I REALLY missed it. That reminded me that my work at Brass Bell has a bigger meaning than just any job. I have always loved music and the many benefits it has for people and the community. I myself have received valuable mentorship from other music store owners and professionals. I enjoy sharing the knowledge I have accumulated over my career. My first NAMM Fly-In in 2014 has kindled that love into a passion for connecting with people through music education advocacy and giving back to the community, fellow store owners, and my staff. I push myself and my staff to be the best version of themselves and achieve success in their pursuits.
At home, I enjoy spending time relaxing with my husband, Zachary, my three kitties, Pip, Braveheart and D'Artagnan, and doing anything that gets me outside in the sun and warmth of Summer, like gardening and, yes, even mowing the lawn.
Our love at Brass Bell is to help our customers find the right instrument, accessories and supplies to optimize their music experience!
---
Nick Gaulke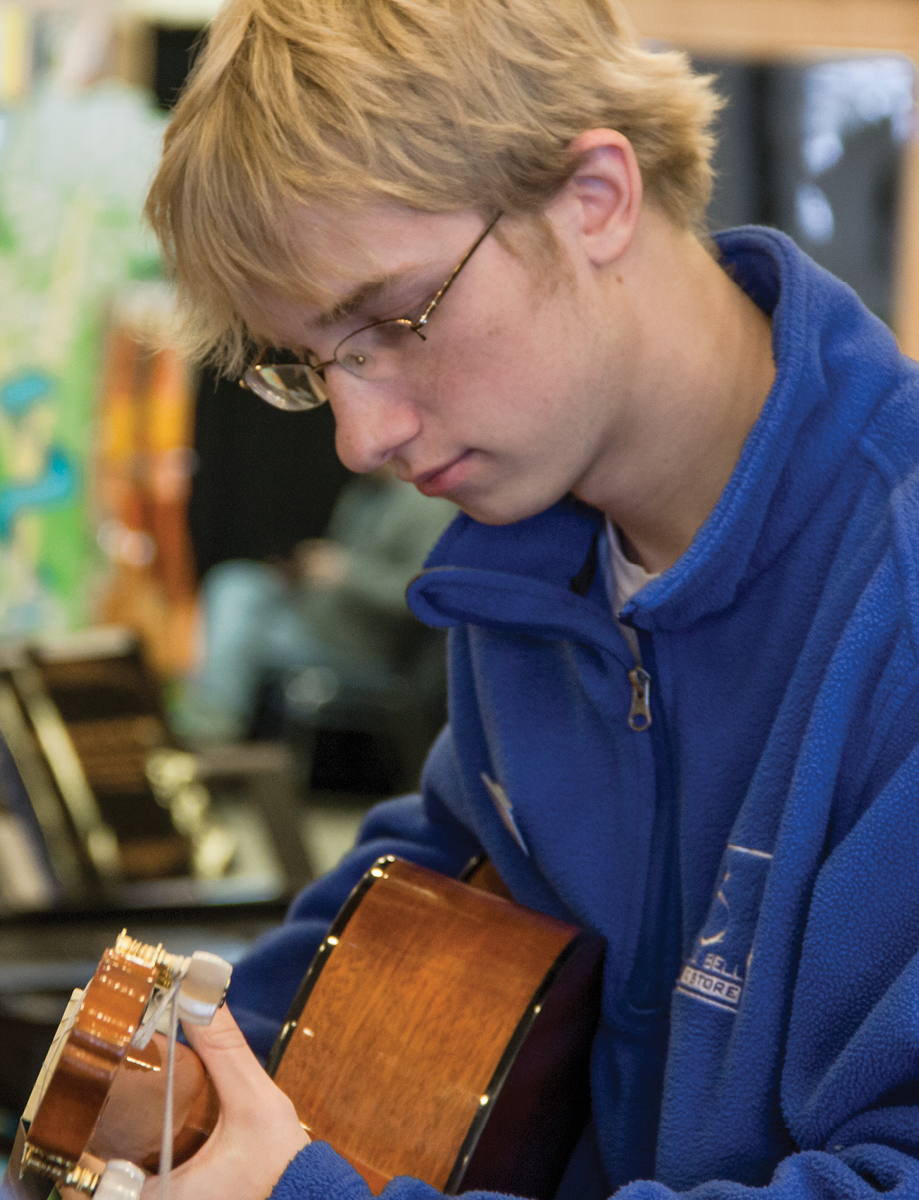 Nick has been working at Brass Bell for over 10 years! He started here with us the moment he could work at the age of 14. He is now one of the store managers in addition to running the Brass Bell IT Department. In addition to the IT and Network he has worked in every department of the store. While he may be a tech wizard, he also is a multi-instrumentalist and plays Guitar, Violin, and Viola.
---
Alex Fisher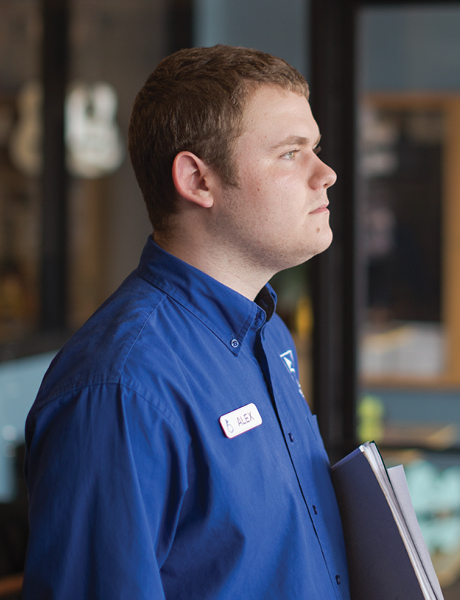 Alex is a product specialist at Brass Bell and a student at Brookfield East High School. He has been a serious violinist for eight years. Alex has participated in the local Milwaukee Youth Symphony Orchestra for seven years, and is in the Senior Symphony Orchestra and Chamber Orhcestra ensembles, through which he will be playing in Ireland. He has also been a part of various string ensembles, such the Rosewood String Quartet and Dream City Strings with whom he plays at weddings and other events. Alex also has teaching experience, and currently has five violin students. Outside of school and performance, Alex enjoys video games, reading books, and composing his own music.
---
Josh Hoover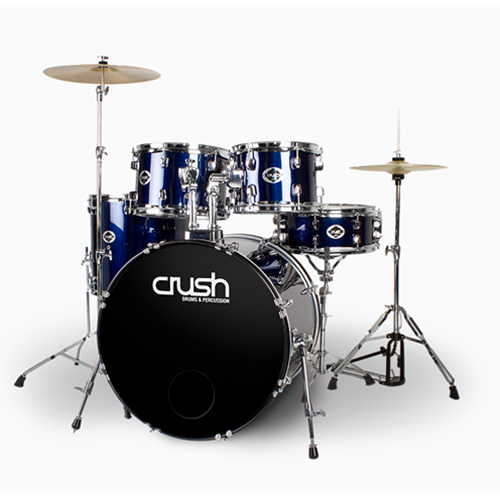 A recent transplant from North Texas, Josh brings a strong administrative background to Brass Bell and helps oversee our lessons department as an Education Coordinator. Music has been a driving force in Josh's life since high school where he played alto sax and was heavily involved in the marching, symphonic, and jazz bands. Since then he's been fortunate enough to tour and record as a drummer with numerous high profile bands from the Dallas/Fort Worth area including Calhoun, Taylor Young Band, Back in Black (AC/DC tribute), and many more. He taught drum lessons for 6 years at one of the first ever 'Rock Schools' and has also spent time working in the comic and video game industries. In addition to drums, Josh has been quietly producing electronic music on the side for over 20 years, and can regularly be found twisting knobs on YouTube. He is excited to serve the customers here at Brass Bell and is looking forward to meeting some new people to make music with!
---
Caitlin Brajevich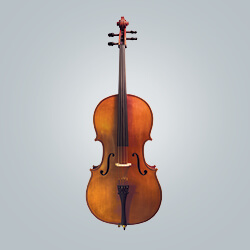 Caitlin is a cellist, vocalist, and performer from New York. She has performed in many musicals growing up as part of the pit, on stage, and behind the scenes. Music has always been a part of her life. Through choir she learned how to play piano and learned ukulele to accompany herself in performances. As a part of Brass Bell's Education Department, she hopes to help students, young and old, refine their skills and play for fun! Nothing beats executing a piece with ease.
---
John Rose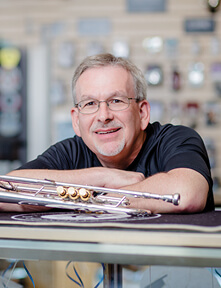 A Milwaukee native, John''s previous work experience includes music retail and music publishing (Hal Leonard). He is also a private lesson instructor and successful professional trumpet player. Educated at the University of Wisconsin-Milwaukee (Applied Trumpet, 1985) he has performed with many of the big bands, theatrical groups, orchestras and chamber groups in Southeast Wisconsin. He has performed with such outstanding national acts as The Temptations, Diane Schuur, Joel Grey, Frankie Valli, has performed with include The Waukesha Symphony, The Wilson Center Orchestra and The AllStar SuperBand.
---
Brett Hanisko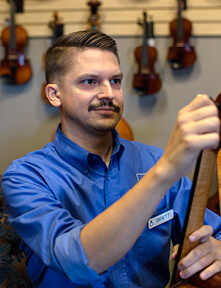 After getting his start in the Band & Orchestra department, Brett is Brass Bell's School Services Representative. Brett holds a degree in vocal performance from UW-Milwaukee and has performed in such local ensembles as Chant Claire, Milwaukee Chamber Choir, and Bel Canto Chorus. A cellist as well, Brett rented his first cello from Brass Bell when he started playing at age 13. He worked his way up to Milwaukee Youth Symphony Orchestra's Senior Symphony in high school and enjoyed playing principal cello in the University Community Orchestra while at UWM. Brett picked up the recorder as a quarantine activity and hasn't looked back since – he now plays Renaissance and Baroque music on soprano, alto, and tenor recorder. Brett did science work in an immunology lab in a past life, but he now enjoys sharing his passion for music and fostering it in our schools on a daily basis. Outside of music, Brett enjoys traveling, hiking in state parks, and studying linguistics as an amateur.
---
Jacob Spanjar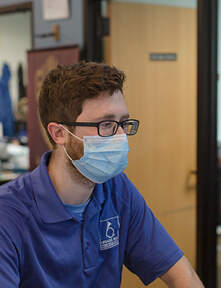 Jacob has been working on and off at Brass Bell for about 3 years and loves music, both listening and playing. His primary instruments are guitar and bass, though he also plays clarinet and sings. He is also a photographer and videographer completing his degree in TV and Video Production at MATC. His previous work experience includes IT troubleshooting, so if you bring him your malfunctioning computer he just might try to fix it!
---
Iryonna Hale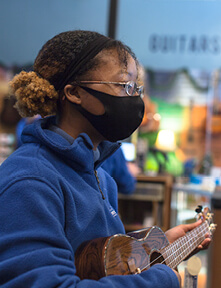 Iryonna is a student at Nicolet High School, where she is a part of several choirs as well as the Tri-M program. She has been a vocalist for six years and a pianist for three. Outside of music, she enjoys reading, listening to music, learning Spanish, and dying her hair.
---
Marilyn Fleenor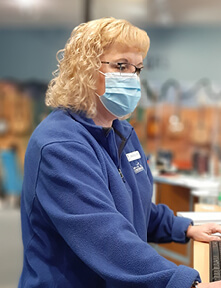 Marilyn is originally from Carmel, Indiana, and holds a Bachelor of Music Education degree from Butler University. She taught five years at Eagle Union Community schools in Zionzville, Indiana as the Middle and Assistant High School Band Director, where she also worked with the theater, show choir and drumline. Marilyn then spent the next 25 years working for music publishing giant Hal Leonard Corporation in Milwaukee, Wisconsin. Marilyn worked in the instrumental editing and then moved into sales as an account manager for the education division. She also helped facilitate orders from overseas suppliers and coordinated distribution with their publisher partners. One of her favorite activities was managing clinicians at and attending educational trade shows, which was her role in the last several years at Hal Leonard. Marilyn looks forward to serving the customers of Brass Bell going forward!
---
Nicole McCarty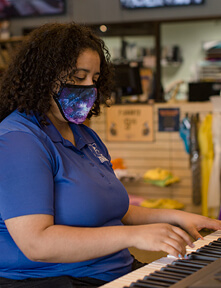 Nicole works as the receiving specialist and private voice and piano instructor at Brass Bell. She holds a B.M. in music education and a M.M. in Vocal Performance. Prior to receiving her Master's degree, she taught elementary music for 6 years, choir directed for 7 years and music directed for 6 years; she now has taught private voice and piano for 8 years. Currently, she is a soprano with Aperi Animam and is the female vocalist for the funk band Montage. Recently, Nicole was seen performing in collaboration with Milwaukee Opera Theatre and Aperi Animam in a concert reading of L'Orfeo (to be performed in its entirety in June of 2022). Her other most recent performances were with UW-Milwaukee in their world premier of Kirsti and the Priest, as Kirsti, and The Choice, as Crew Member One. Nicole was also seen as Vitellia in La clemenza di Tito in collaboration with Milwaukee Opera Theatre and UW-Milwaukee.
---
Milo Asher
Milo is a student at Shorewood High School as a part of the class of 2024. Ever since joining the musical community, they have been a client at Brass Bell. They have been playing both trumpet and piano for 5 years, with experience with guitar and cello. Two of their favorite artists include Gorillaz, Tally Hall, and other pop and experimental artists. They often like to socialize and make music with their friends, and outside of music, some of their hobbies include playing indie games, and creating visual art with the Rising Artists Council under the Artists Working in Education program.
---
Lizzy Pantoga-Montoto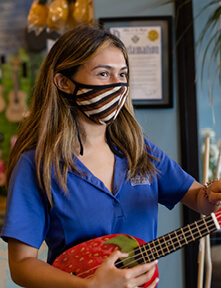 Lizzy is an incoming senior at Rufus King High School in Milwaukee. She has studied violin since age 3 and participated in the Milwaukee Youth Symphony Orchestra in a variety of programs-ranging from the John Downey Composition program to being concertmaster for the String Ensemble as a younger student. Lizzy will be attending Interlochen's Music Camp this year in Music Production and Engineering and hopes to study Music Composition or Production in college. Lizzy also plays guitar and plays tennis for the Rufus King team.
---
Cian Bonde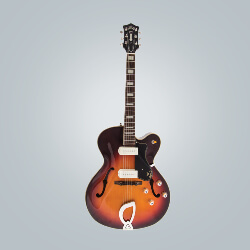 Cian is a product specialist at Brass Bell Music Store and a Junior at Brown Deer High School. He has a wide variety of instrument knowledge and a passion for music. His main instrument is guitar, though he has also played trumpet, bass, and ukulele. Cian has a wide variety of music tastes ranging from hip hop and reggae to rock and classical. Outside of music, his interests and hobbies include reading, playing video games, traveling, and bike riding.
---
Amanda Malloy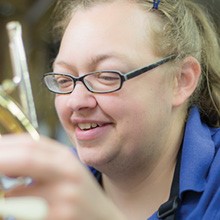 Amanda is a 2003 graduate of band instrument repair at MSC-ST Red Wing, Minnesota, a NAPBIRT member, and a certified Straubinger flute technician. She started repairing band instruments at Brass Bell in 2003 and specializes in brass and woodwind repairs with an emphasis on flute, trumpet, and trombone. She is also a trumpet player, vocalist, and brass and woodwind instrumentalist.
---
Brian Katz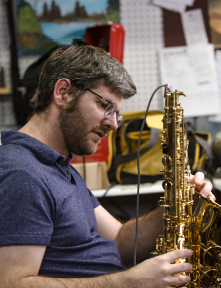 Brian graduated with a BA in Music from the University of West Florida in 2003. Upon graduation, he attended Badger State Repair School, and completed his training at Red Wing. Brian started working at Schmitt Music in Brooklyn Center, MN in 2005 working on Woodwinds and Brass. He moved back to his hometown of Madison, WI in 2010 and worked for Ward-Brodt Music until 2019. In 2019, he joined the Brass Bell family and now focuses on repairs for one of his primary instruments, saxophone, which is his passion.
---
Glenn Schumann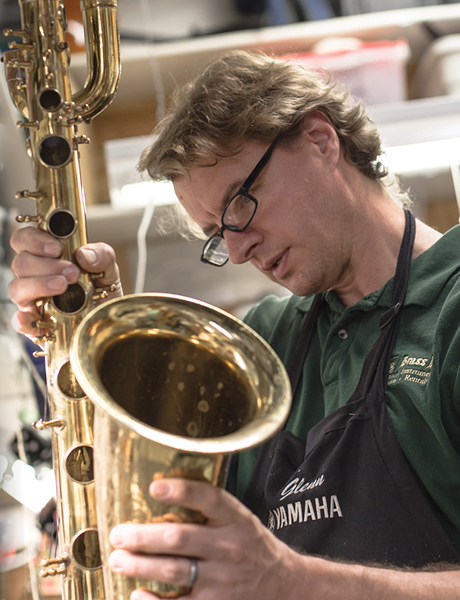 Glenn started renting his first saxophone and took lessons at Brass Bell with Julie Wood in the early 80's. After spending 12 years in the architectural industry designing large hospitals, he now repairs woodwind and brass instruments (particularly in the saxophone family).
---
Nick Miller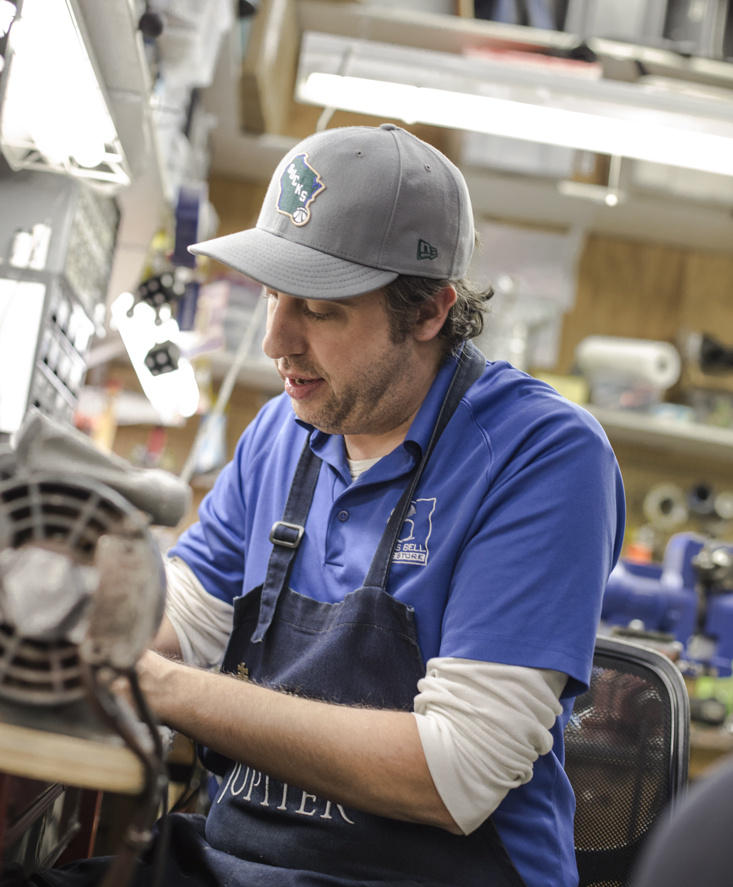 Graduate of Band Instrument Repair and Guitar Construction/Repair at MSC-SE (Red Wing) and Graduate of Amplifier Construct at Roberto Venn Luthiery in Phoenix, AZ. Nick is a NAPBIRT member who specializes in woodwind repairs, builds guitar effects units, and plays guitar, brass, and woodwind instruments.
---
Dora Peregrine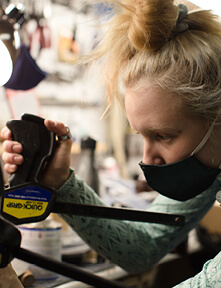 Dora has been an orchestra instrument technician at Brass Bell since 2016 and, since then, has had the opportunity to do a number of other exciting things for the store additionally such as mural painting and video making. Her main instrument is the cello but she also enjoys playing guitar, bass, and other string instruments as well as singing. She is currently a student at the University of Wisconsin - Milwaukee studying studio art, German, and creative writing. In her free time, Dora loves biking, making art and music, eating breakfast foods, writing, and finding new and exciting things to do to her hair.
---
Eli Drews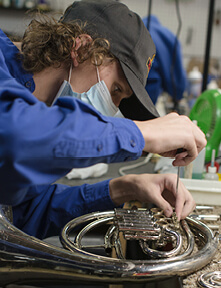 Eli grew up in a family immersed in the arts of the Milwaukee area including theater, visual art, and music. He began his life in classical music his freshman year of high school and has played horn for about four years. He's played with the R.R.H.S. Chamber Wind Ensemble and Symphony Orchestra, the Milwaukee Youth Symphony Orchestra, the Milwaukee American Legion Band, the UWM Symphony Band, as well as pit orchestras around the Milwaukee Area. As a composer, Eli has also had his original works performed by MYSO, the "Brassy Bunch" Brass Quartet, and has a piece being performed by the R.R.H.S. Symphony Band in the coming months.
---
Diane Giaccobassi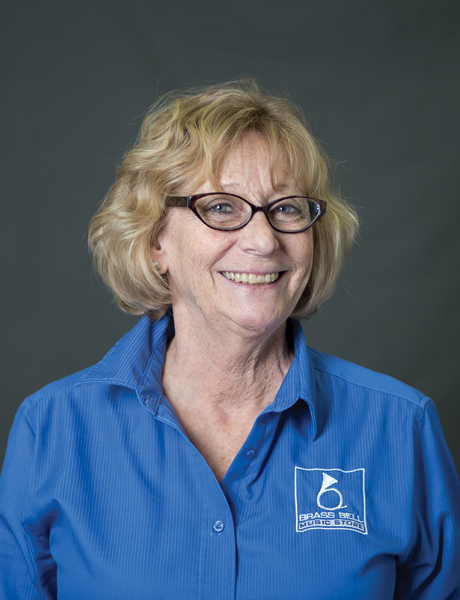 I am a wannabe musician who loves classical, jazz, big band, swing, and some rock (in no particular order). I may be the senior-most associate at Brass Bell, but I can say something that I don't think anyone else here can: I heard both Jimi Hendrix and Janis Joplin live in concert. Bucket list of instruments is full. Bag Pipes anyone?
---
Lizzy Cichowski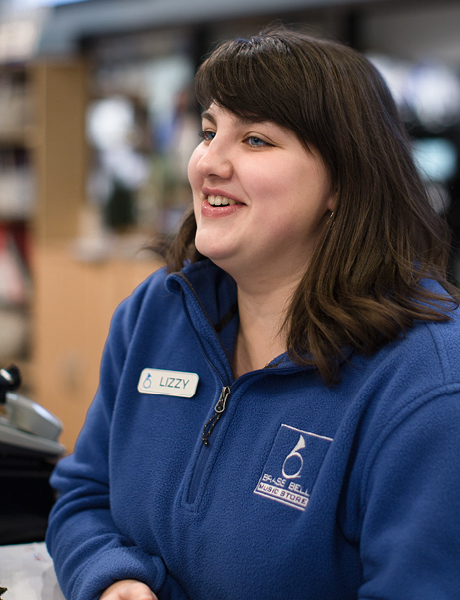 An Illinois native, Lizzy ventured up to Wisconsin in 2015 for an internship at Birch Creek Music Performance Center in Door County, and never quite made it all the way back. Lizzy is a graduate of Bradley University with a degree in Music Business, emphasizing in bassoon and voice. Aside from the amazing community and staff, Lizzy's favorite part of working at Brass Bell is that she learns something new and exciting about the musical world each time she enters the store. When she is not at Brass Bell, Lizzy can be found running along Lake Michigan, baking festive treats, or playing with the Milwaukee Manatees underwater hockey team.
---
Rhonda Rae Busch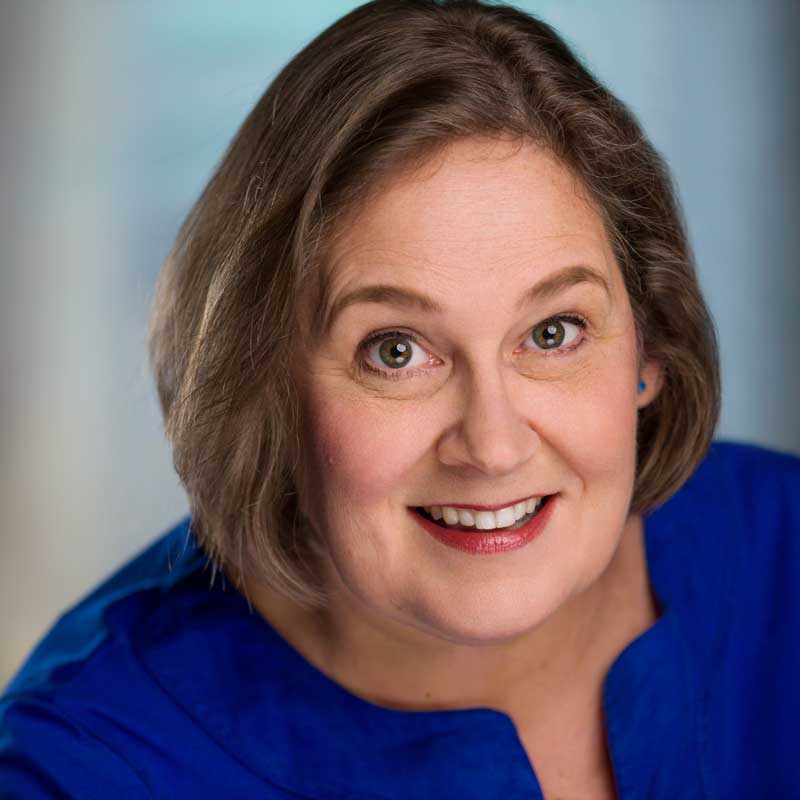 Rhonda Rae 's contributions to Brass Bell include multiple retail support projects including data entry of instrument rentals, mailings, and accounts receivable assistance. She holds degrees in English and Theatre and performs at many area theatres including Skylight Music Theatre, First Stage, Door Shakespeare, and the Fireside Dinner Theatre in Fort Atkinson.
---