Current Brass Bell Policies
Last updated: September 24, 2020
---
Return Policy
Items may be returned within 7 days for a full refund, or within 30 days for in-store credit. A 10% restocking fee will be applied to all serialize or electronic returns. Print music, special orders, opened software and media, reeds, harmonicas, microphones, masks, CLEARANCE MERCHANDISE, and other used or damaged merchandise ARE NEITHER RETURNABLE NOR EXCHANGEABLE.
---
In Store Policies
Our showroom is open Monday through Thursday 10am to 6pm, Friday & Sunday 12pm to 6pm, and Saturday 10am to 4pm*
We are also offering curbside pickup and drop off! No appointment necessary, please call us when you arrive at 414-963-1000.

*See image for in store policies.
---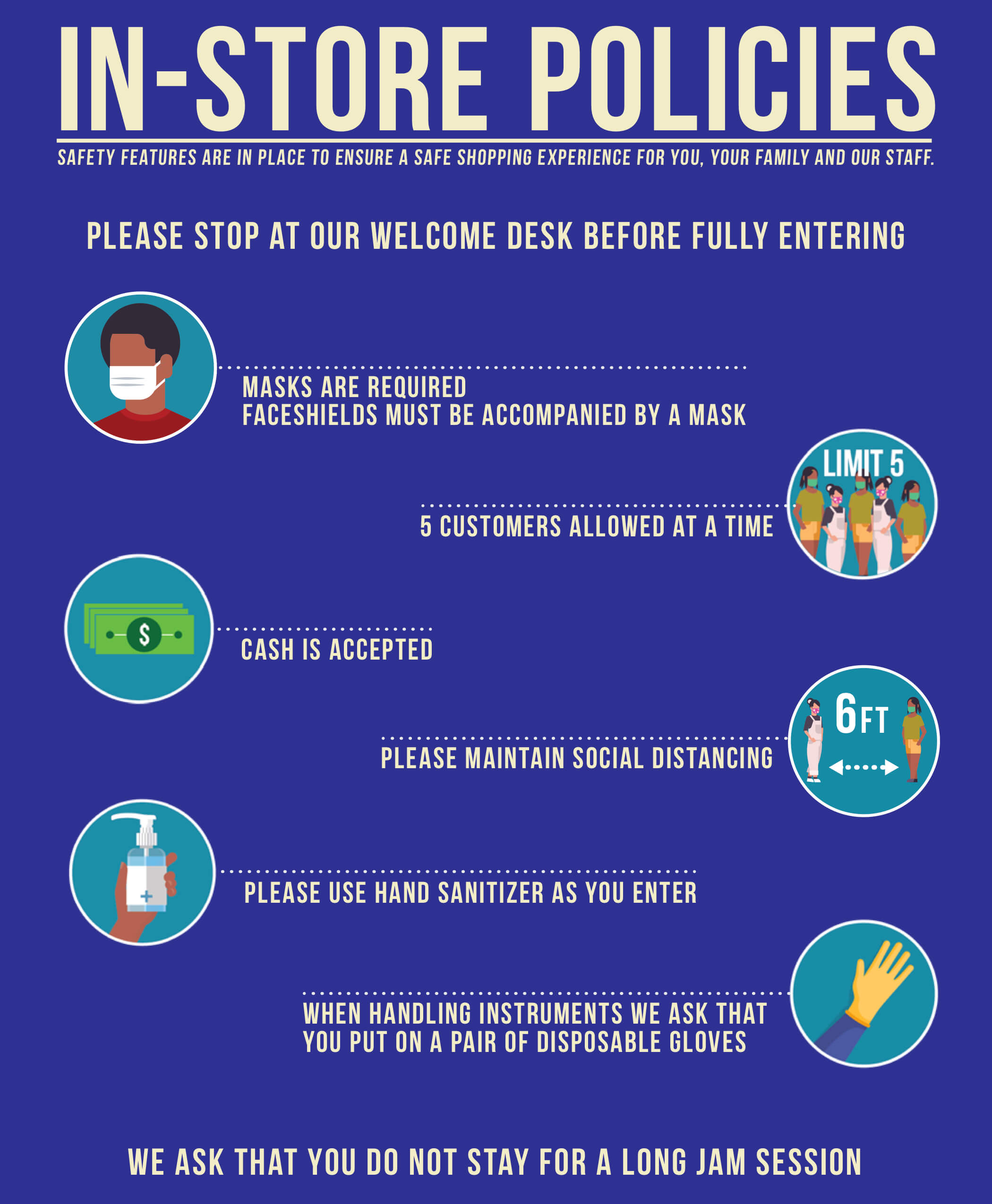 We at Brass Bell are very concerned about COVID-19 and how it has affected our community in the greater Milwaukee area. In order to protect our customers and our staff, and to do our part to "flatten the curve," we have made these adjustments to our standard operations:
We encourage all staff to be aware of and observe CDC guidelines to keep themselves and others safe, including regular handwashing, wearing masks and gloves, disinfecting common surfaces, and staying home when they feel unwell.
We are offering contactless curbside dropoff and pickup between 10am - 6pm Monday through Thursday, 12pm - 6pm Friday & Sunday, and 10am - 4pm Saturday. No appointment is necessary, please call when you are outside and an employee will assist you (414-963-1000). Items being dropped off and/or picked up should be left in the trunk.
All incoming instruments are quarantined for a period of one week before they are opened and inspected, as the CDC has found that COVID-19 can survive on most common instrument surfaces for up to 5 days. We have reserved 7 practice studios (which are not currently in use, as all of our lessons are currently being offered online) in order to clearly designate how long each instrument has been in quarantine. This is the most safest and most efficient procedure to protect our employees that are accepting instruments, and the technicians that are inspecting the instruments, so we can ensure that they are completely safe to handle.
We are keeping up-to-date on CDC guidelines for cleaning instruments. Our friends at NFHS, NAfME, and NAMM have provided some excellent guidelines for cleaning instruments at home: https://www.nfhs.org/articles/covid-19-instrument-cleaning-guidelines
We appreciate our customers' understanding and cooperation in regard to these policies. As musicians, we all know that each of us has to do our part to contribute to the success of the group, and so we are dedicated to doing our part to preventing the spread of COVID-19 in our community, in the hopes that very soon we will be able to open our doors and serve you in-store once more!
From all of us at the Brass Bell team, stay healthy and stay safe!